Friday, April 30, 2004
Even dead Jews are hated
I just don't know what to say about
this
. I mean, these Jews are already dead what more do the disgusting anti-semites want from them? Of course this is happening in France. Nothing that happens in France shocks me anymore. Disgusts me.
Wednesday, April 28, 2004
Shotei Hanevua
This is an Israeli Alternative rock band that I am absolutely in love with. My brother gave me one of their CDs about a year ago and I am still listening to it almost religiously. Such a good band. They seem to sing a lot about the situation in Israel, about loving one another, and other positive things. Plus, the music is so unique. Good beats, good energy. I recommend you get the CD if you don't have it already.
Governator goes to Israel
Arnold is going to
Israel
(lucky bastard). I appreciate his gesture to go there to be a part of the groundbreaking for a museum dedicated to tolerance. It's a project of the Wiesenthal Center. And for those who thought he might be a Nazi like his father will be pleased to know that "he has a long-standing relationship with the Wiesenthal center, one of the largest international Jewish human rights organizations, and has given the group more than $1 million." Sure, some will say that he gave the organization money to assure Jewish voters that he is nothing like his father. Hey, whatever works. He's giving money to an organization that I can support. Yasher Koach :)
Monday, April 26, 2004
AM ISRAEL CHAI!
Israel is 56 years old! What a miracle. My heart is filled with joy knowing that our beautiful country is another year older. Lots of activities going on in the Bay Area to celebrate Israel's birthday. Including a
major party
in SF on May 1st which will include an appearance by Mooky! All my friends will be going so I guess my only option is to join the fun! Some of the ticket proceeds goes to Magen David Adom which makes it all the more worthwhile to go. I can't think of a better organization to donate money to.
Pictures are worth a thousand words right? So let's look at some to celebrate today!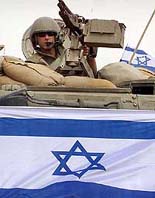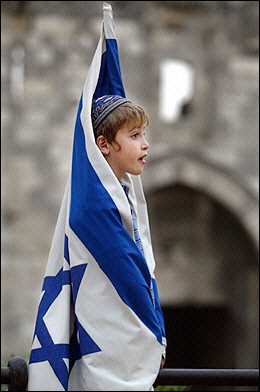 For more pics go
here
Sunday, April 25, 2004
Israel's Memorial Day

Yom HaZikaron is another somber holiday. We remember all the soldiers who fought and died to protect Israel. The number is great, and their ultimate sacrifice to help ensure the freedom of the Jews to live in Israel brings tears to my eyes and sorrow to my heart. They left behind parents, children, wives, husbands, brothers, sisters, and friends. I have watched several movies that help commemorate their lives and cannot fight back the tears as I listen to the stories from children who never got to meet their fathers. Thank you from the bottom of my heart to all those who have fought to defend the freedom and independence of Eretz Israel.


Here are the lyrics to Israel's National Anthem: Hatikvah

As long as deep in the heart,
The soul of a Jew yearns,
And forward to the East
To Zion, an eye looks
Our hope will not be lost,
The hope of two thousand years,
To be a free nation in our land,
The land of Zion and Jerusalem


AM ISRAEL CHAI

UPDATE:
From an article "What Israel Means to Me"

Israel is much more than a tiny piece of land in the Middle East. She is living proof that the Jewish people have survived, against all odds, and will continue to survive -- and thrive.